1970 Dodge Challenger 440 RT Six Pack Tribute
$87,990 Or Best Offer
Big Black Angry 501 Cubic Inch BIG-BLOCK MONSTER!
This American Muscle Machine is has had No Expense Spared in relation to it's running gear and goes like a BAT out of HELL!
Originally built in December 1969 at the Michigan plant USA as a 318, 2 barrel V8 Challenger in Bronze.(VIN: JH23G0B213037)
J – Dodge Challenger
H – High
23 – two-door hardtop
G –  V8 318 1-2bbl
0 – 1970
B – Hamtrack, MI USA
After much time & $$'s spent it is now as follows:
New Black interior (seats, door trims, carpet hoodliner etc, etc)                                                       0.
New Black paintwork
RT Badging
Battery relocated to the boot
Shaker bonnet and engine scoop
501 Big Block Stroker Motor (605 Horsepower @5500 RPM
Steel Forged Crank
H-Beam Rods with ARP Rod Bolts
Forged Flat-Top Pistons
Millings High Volume Oil pump
Solid Cam and lifters
Comp cam double row timing chain
Stainless Steel Bronze bushed rocker cover arms
Edelbrock RPM Head with ARP Stud Bolts
Intake System 440 6 Pack with all linkages included
MSD Ignition
High performance stainless steel exhaust and headers
Rebuilt 4 Speed with 11 inch Hemi Clutch with Hurst Shifter
New DANA Rear end with Positrac
New Brakes front and back
Rebuilt front suspension
Lowered Suspension
New HEMI Leaf springs with Cal-Trac System
New Gas tank and Sender unit
New Interior
New Dash, wiring and calibrated gauges
Huge File of ALL Receipts is included with the car including it's State of California Certificate of Title
And the list goes on and on etc, etc.
For more information and or photos please call Chester on 0414239028
1970 Dodge Challenger Overview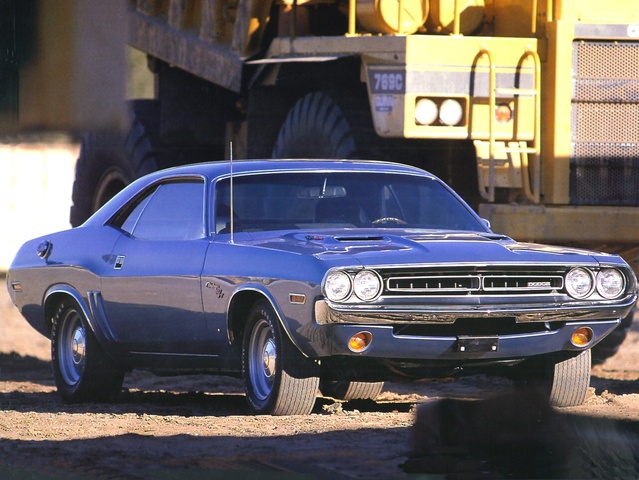 A man speeds through the western highways of the U.S., pursued by angry cops, hitchhikers, and naked women on motorbikes. It's the "Fast and the Furious" of its generation, a B-movie ode to fast muscle cars and the men who love them. The film is 1971's "Vanishing Point." The car is the 1970 Dodge Challenger.
The 2-door 1970 Dodge Challenger came in both hard-top and convertible models. It was built on a Plymouth Barracuda platform, but had a two-inch longer wheelbase. Two trims were available, base and R/T (Road/Track), both of which could be paired with an SE package, which included leather seats and a smaller rear window.
Depending on your need for speed, a slew of engine choices ranged from the 225 Slant-6, 145 bhp to the 440 V8 and racecar-like 426 Hemi, rated at 425 bhp. The optional 440 engine had a 4-barrel Magnum with 375 bhp or a tri-carb Six-Pack with 390 bhp. The most desirable versions of the 1970 Challenger, both the 440s and Hemis came with either a 3-speed TorqueFlite automatic or an optional 4-speed manual with pistol-grip shifter. The standard model R/T featured a 383 engine and had two hood scoops, which could be substituted with a "shaker" scoop, so called because of its vibrating motion when the car was moving.
In 1970 only, Dodge released a street version of its race car. Called the T/A (TransAm), it featured a Six-Pack version of the 340 5.6-liter engine with a humongous hood scoop, dual exhausts in front of the rear tires, sway bars, heavy-duty suspension, and the innovative different-sized wheels in front and back. A rear ducktail spoiler and three striping options (rear, side or none at all) enhanced the race car image. It got about 350 bhp and made a quarter-mile in 14 seconds.
Info Courstey of-www.cargurus.com
There are no features available
Key Specifications
| | |
| --- | --- |
| Location: | Darwin |
| Year: | 1970 |
| Make: | Dodge |
| Model: | Challenger R/T |
| Body Style: | Coupe |
| Price: | $87,990 Or Best Offer |
| Drivetrain: | RWD |
| Engine: | 440 |
| Exterior Color: | Black |
| Interior Color: | Black |
| VIN Number: | JH23GDB213037 |
Share This Vehicle
Recommend to a friend
Enquire about this vehicle
Recent Vehicles
Browse through the vast selection of vehicles that have recently been added to our inventory.
Advertisements